---
Hydraulic cylinders at very low price
Big savings for hydraulic cylinders at P & J Commercial Products.
We have a complete line of surplus, import hydraulic cylinder and made in the U.S.A. Prince Cylinders at wholesale price. Welded, Tie rod, Cross tube 3000 P.S.I , Small bore to large bore up to 6" Hydraulic cylinders.

Tie rod Hydraulic Cylinders above use high strength threaded steel rods to hold the two end caps to the Hydraulic cylinder barrel. This method of construction is most often seen in industrial applications. Small bore usually have 4 tie rods.

Welded body Cylinders above have a number of advantages over tie rod type hydraulic cylinder. Welded have a narrower body and often a shorter overall length letting them to fit into the tight confines of machinery and equipment
A welded body hydraulic cylinder will dominate the mobile hydraulic equipment market such as construction equipment.
---
Welded Clevis Hydraulic cylinder
Click link ( Welded ) below for different hydraulic cylinders
---
Welded Click on link below Cross Tube
---
Click on link below for Tie Rod
---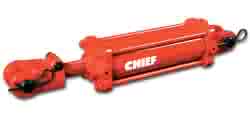 Chief Cylinders click here
---
Log Splitter Cylinders click here
---

---

We accept Master Card, Visa, Discover Card,
American Express and Checks
P & J Commercial Products
E-mail: Splitez@Gmail.com
1-661 248 5270 Phone
Toll Free Order line 1- 877 SPLITez
Hydraulic cylinders
---