Hay Bale spear is engineered for lifting large round hay bales, moving with a pickup or flat bed truck all units are power by hydraulic cylinder and 12 volt pump.
---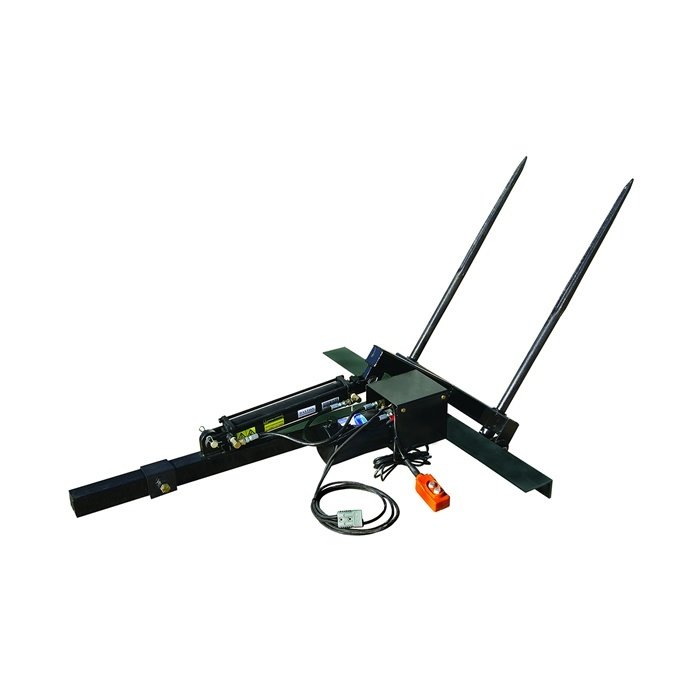 Mounts over 2 5/16 gooseneck ball
12 V power up/power down hydraulic pump
15' water resistant remote
Electrical quick disconnects
150 amp breaker
1800 lb capacity
Can easily be moved from one truck to another
One year warranty
Made in the USA
The ABS1K Hay bale spike has a total of two spears that are operated by 3000 PSI hydraulic cylinder and controlled by a 12 volt power up / power down hydraulic pump unit comes complete, 15 foot remote, electrical quick disconnects with power leads. Mounts over a standard 2 5/16" ball fifth wheel in bed of pickup
1800 lbs capacity One year warranty Made in U.S.A
PART NO. ABS1K Price $ 1785.99
---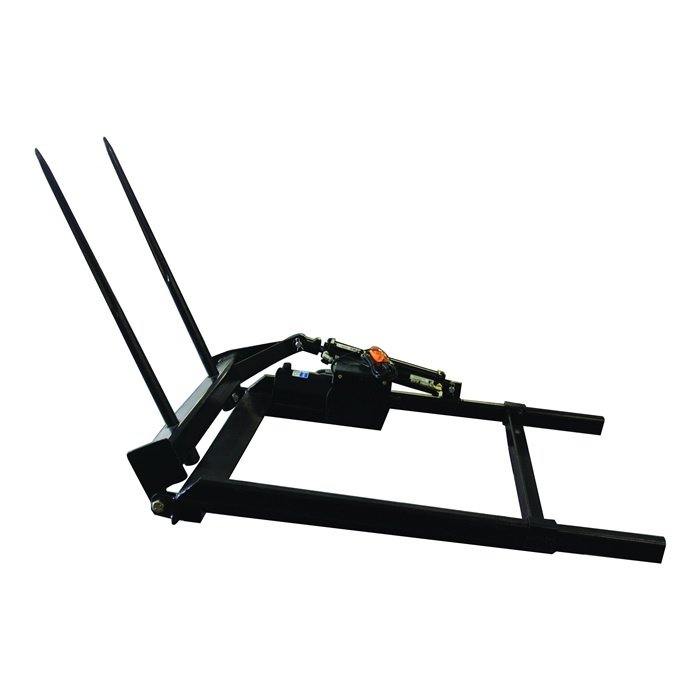 Now this bale spike is for those customers that need to haul goose neck trailer without dismounting the bale spike from the vehicle. All you have to do is remove the bale spike spears and you are Reddy to connect your trailer to the gooseneck to the ball. Hall up to 2500 Lbs of hay, comes complete with hydraulic cylinder 12 volt pump power up power down nice.
One year warranty included with purchase of bale spike .
kit includes 3" cylinder with 16" stroke

hookup cables

quick disconnects

150 amp breaker

one year manufacturer warranty

product is made in the USA
Part No. ABS2K Price $ 1885.99
---
We have a full line of Monarch Hydraulic Pumps 12 Volt & 24 Volt Call for more pumps
---
Hay Bale Unroller
Made in the USA.
Hooks up to both Cat 1 / Cat 2 tractors.
Will pick up 4', 5', and 6' bales.
Comes with a 2" x 12" tie rod cylinder, hydraulic connections including 1/2" female breakaway coupler and PIONEER quick connects for quick connections.
Technical service available during the installation process. Just call us at 800-658-6301.
NOTE: The color of the unit may vary.
---
We accept Master Card, Visa, Discover Card,
American Express and Checks .
P & J Commercial Products .
New E-mail: Splitez@Gmail.com
1-661 248 5270 Phone
Toll Free Order line 1- 877 SPLITez
HAY BALE SPIKE SPEAR